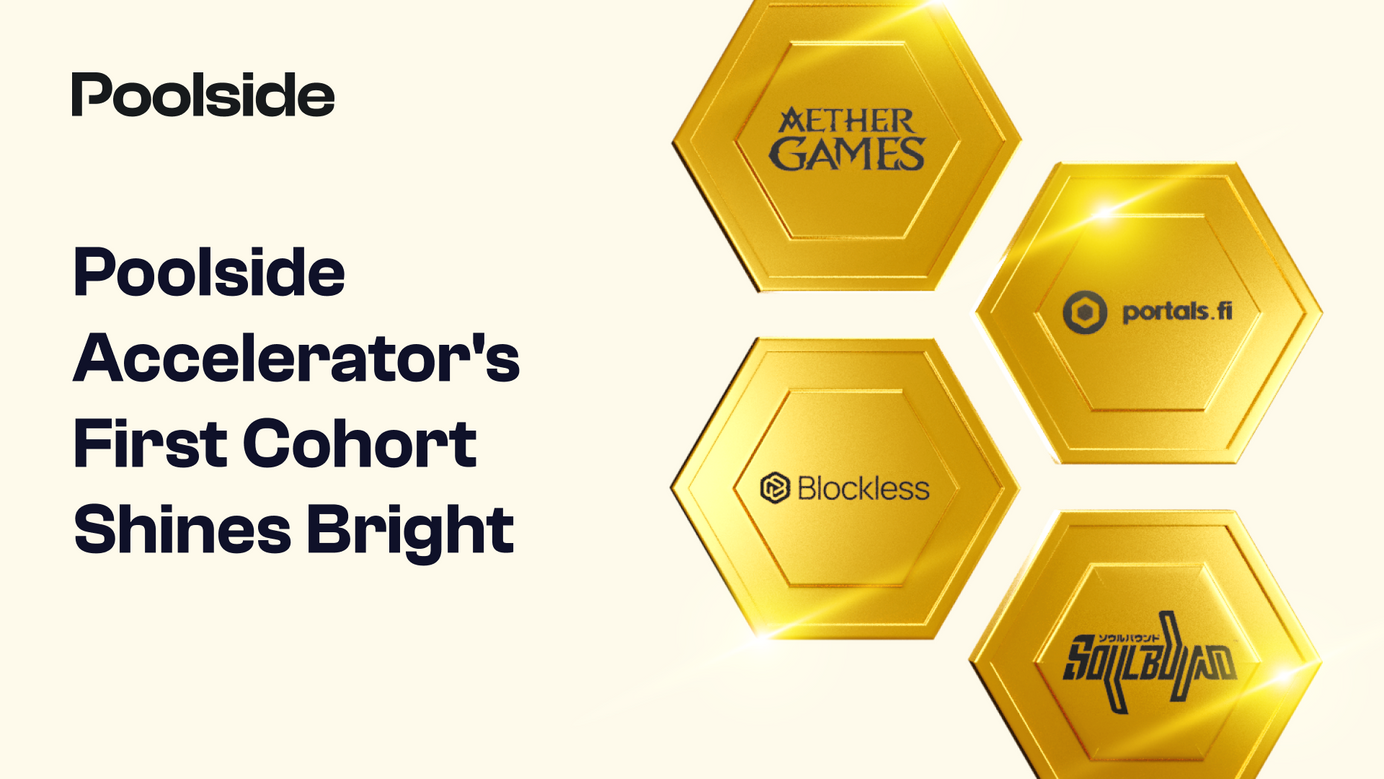 Poolside Accelerator's First Cohort Shines Bright
The Poolside Accelerator's first cohort is reaching new heights as we approach the eagerly anticipated Demo Day on July 13th, 2023.
With just a few weeks left, it's time to catch up on the exciting progress of our four incredible projects. Brace yourself for a thrilling update that will leave you craving more!
Blockless: Unleashing the Power of Decentralized Applications
Blockless has been unstoppable, charging forward with remarkable momentum over the past few weeks. Their public testnet has been a resounding success, integrating 8 chains, attracting over 150 builders, 20 projects and signing four L1 ecosystem official partnerships. Organic growth has been strong, with 3-5 new users joining daily. In an exciting collaboration, Blockless is now supporting EigenLayer to enhance its restaking network security and stability, reinforcing their commitment to creating a robust ecosystem. Stay tuned for more details on this exciting partnership!
As centralized platforms face increasing regulatory scrutiny, Blockless is emerging as the go-to infrastructure for applications and users seeking a community-first approach. Its decentralized and censorship-resilient nature has made it an appealing choice for many.
On the horizon, Blockless is gearing up for the unveiling of its Initial Node Offering (INO). This innovative go to market approach promises to introduce transformative opportunities for both users and investors, marking a significant milestone in the decentralized ecosystem. Blockless's ambitious future plans are set to reshape the landscape of decentralized applications, so keep your eyes peeled for more updates!

Aether Games: Merging Blockchain and Traditional Gaming in Spectacular Fashion
Aether Games burst onto the scene with a bang, garnering attention from renowned outlets like Yahoo Finance and Bloomberg. Their recent announcement of a $4.5M token and equity round alongside Cards of Ethernity has set the industry abuzz. The game quickly skyrocketed to become the #1 TCG on the Sui blockchain and earned a spot in Cointelegraph's top 20 Blockchain games, ranking an impressive #7.
Early access to Aether Games attracted over 6,000 players, showcasing the enormous potential this game holds for the entire industry. By blending blockchain technology with traditional gaming, Aether Games is creating a truly unique experience. Their store launch, featuring packs like loot boxes, has been an overwhelming success, captivating players from all corners.
But the excitement doesn't stop there! Aether Games is witnessing a steady increase in user adoption and following. Notably, prominent personalities such as Thea Booysen have been streaming Cards of Ethernity to massive audiences, solidifying its position as a gaming powerhouse.

Portals: Unlocking a Gateway to Limitless Possibilities
Portals has been gaining tremendous traction, growing its Discord & Twitter membership by roughly 300%. Protocols are lining up, eager to integrate the Portals API as the team prepares for their highly anticipated v2.0 launch in early Summer…
While the details of v2.0 are shrouded in secrecy, what we can reveal is that Portals has built a first-of-its-kind gas abstraction layer that levels up Web3 experience like never before. Prepare for a host of groundbreaking features and opportunities set to be unveiled on the big day.
Soulbound: Transforming the Gaming Infrastructure Landscape
Soulbound has taken the gaming infrastructure scene by storm, and the numbers speak volumes. With an impressive user base of 8,000 players, over 15,200 quests completed, and a staggering 2.6 million M-XP claimed, Soulbound has proven its ability to captivate and engage gamers. What's more, they have seamlessly integrated with over 30 games, further solidifying their position as a leader in the space.
Recognizing their potential, the Soulbound team is expanding rapidly. They are currently in the midst of a new funding round, building upon their previous successful raise of $3.7 million led by Animoca Brands. With this new funding, Soulbound aims to accelerate their growth and continue pushing the boundaries of gaming infrastructure.
Up next at Poolside Accelerator
As we approach the highly anticipated Demo Day on July 13th (Register here), the Poolside Accelerator's first cohort, including Blockless, Aether Games, Portals, and Soulbound, is gearing up to showcase their groundbreaking innovations. We invite the entire community to join us for this extraordinary event and witness firsthand the transformative power of Web3 technology.
The Poolside Web3 Accelerator is a 3-month intensive program designed to support and accelerate the development of projects in the decentralized technology space. The selection comes with initial funding of up to $100,000 and includes support from industry experts, access to a network of advisors and partners, and funding opportunities.

Stay tuned for more updates and exciting developments from these exceptional projects as they shape the future of the Web3 landscape!
About Poolside
Poolside is an ecosystem designed exclusively for Web3 builders. With its suite of services and expert resources, Poolside helps Web3 projects make a splash in the rapidly evolving world of Web3. In addition to being a physical hub at the heart of the Web3 district in Lisbon, Poolside also hosts a remote accelerator program that takes selected projects from ideation to market launch, while providing initial funding of up to $100,000. The Poolside ecosystem is rapidly expanding with key partners and a growing community of Web3 builders, mentors, and investors.

Poolside Hub | Web3 Accelerator | Podcast
Poolside Newsletter
Join the newsletter to receive the latest updates in your inbox.
---