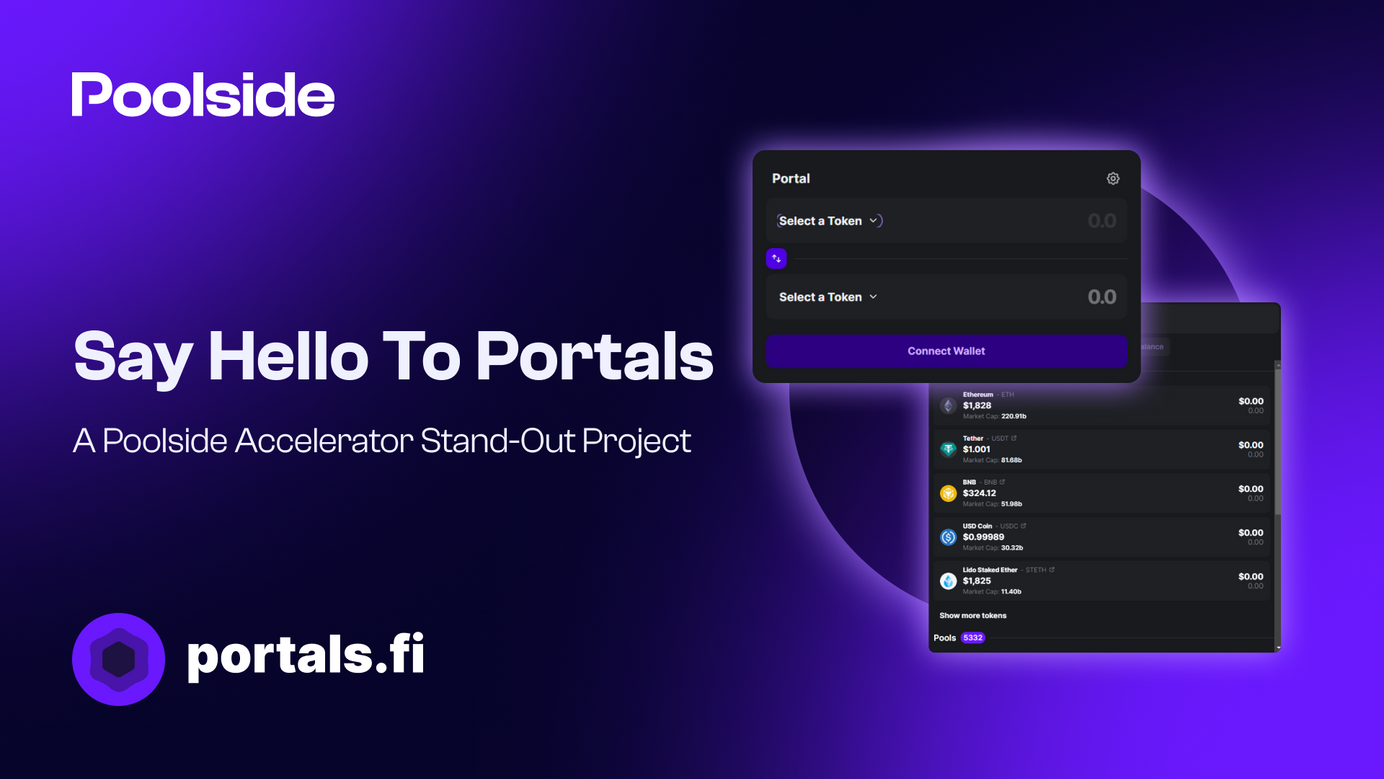 Say Hello To Portals, a Poolside Accelerator Stand-Out Project
Streamlining complex transactions with the power of Portals
Imagine a world where DeFi users can bundle multiple transactions into a single step, saving time and gas fees. This is the reality that Portals, a new DeFi platform, has created. Selected as one of four projects for the Poolside Accelerator, Portals aims to supercharge protocols by enabling one-click access to any asset, enhancing performance, boosting functionality, and driving DeFi adoption.
Today, we'll dive a bit further into what Portals do, how they do it, and what makes them such an exciting and promising project in Web3.
About Portals
Portals are here to simplify the process of managing complex DeFi transactions by allowing builders to bundle DeFi actions into one transaction. The platform is the first dAPP to enable true any-to-any swaps, making it possible to trade almost any ERC20 token, including exotic assets like LP tokens, vault tokens, and more.
The Vision
Co-founder Suhail Gangji aims to make complex DeFi transactions simpler and more accessible for both users and developers. By compressing multi-step transactions into one transaction, Portals bring convenience and efficiency to the DeFi ecosystem. Portals is not only a yield and protocol aggregator, but also provides robust API services, empowering developers to create seamless integrations for a better user experience.
The Background
Suhail got involved in DeFi early on and built a dashboard for MakerDAO when it was a single collateral DAI. He then took a Solidity bootcamp course at Consensus, where he met his co-founder of DeFi Zap. The two built up DeFi Zap, which later became the popular platform, Zapper. During his time at Zapper, Suhail created over 530 zaps, making gas improvements and enhancing transaction UX.
Suhail left Zapper to focus on building a platform exclusively for transactions and bundling, leading to the formation of Portals. The team's experience is one of Portals' most invaluable and intangible assets. Understanding the problem you're trying to solve sits at the heart of any successful product. Suhail and his team bring a wealth of knowledge, and relevant background mirrored in the Portals project. Believing in a project is believing in the team that creates it and that, we certainly believe in here at Poolside.
The Portals Advantage
Portals' focus on simplifying complex opportunities differentiates it from other DeFi aggregators. While most DeFi aggregators concentrate on basic swaps, Portals aggregates underlying liquidity pool opportunities, providing one-click access to earning potential for protocols and retail users alike. The platform also offers comprehensive APIs, providing developers with all the necessary data to create seamless user interfaces.
How Can Users Benefit from Portals?
Using Portals, users can bundle multiple actions into a single transaction. For instance, a trader who wants to move assets from one protocol to another can easily do so.
Ordinarily, the trader would have to go to the first-party protocol website and remove liquidity. They would then have to go to the other protocol's website and understand the interface, click around, and find the vault they want to get into. This process can be tedious and confusing for many users.
With Portals, users can perform all these actions in a single transaction. The platform saves time and gas fees, making it simple to navigate the DeFi space. Users can also earn trading fees and yield by providing liquidity to different pools through the yield and protocol aggregator feature.
Ease of Use
Both developers and users benefit from the seamless integration and user-friendly experience Portals offers. The platform's API is designed to be familiar and easy to work with, providing developers with all the contextual data and opportunities they need to create a powerful interface. For users, Portals simplifies complex transactions, saving time and gas fees in the process.
Portals is revolutionizing the DeFi space by streamlining complex transactions and offering a user-friendly experience. With its innovative approach to bundling transactions, Portals is empowering users and developers alike to tap into the full potential of the DeFi ecosystem.
As Portals evolves, it plans to improve user experience by introducing network or chain abstraction, gasless transactions, and signed orders. Users can make transactions without broadcasting them themselves, and gas fees will be paid using the underlying tokens. Portals aim to create a seamless and delightful UI, continuously iterating and improving upon its offerings.
Portals is an exciting project that promises to change the landscape of DeFi, making it more accessible and efficient for users. With its innovative approach to swapping assets and commitment to continuously improving its platform, Portals is well on its way to becoming a leader in the DeFi space.

About Poolside
Poolside is an ecosystem designed exclusively for Web3 builders. With its suite of services and expert resources, Poolside helps Web3 projects make a splash in the rapidly evolving world of Web3. In addition to being a physical hub at the heart of the Web3 district in Lisbon, Poolside also hosts a remote accelerator program that takes selected projects from ideation to market launch, while providing initial funding of up to $100,000. The Poolside ecosystem is rapidly expanding with key partners and a growing community of Web3 builders, mentors, and investors.
Poolside Newsletter
Join the newsletter to receive the latest updates in your inbox.
---