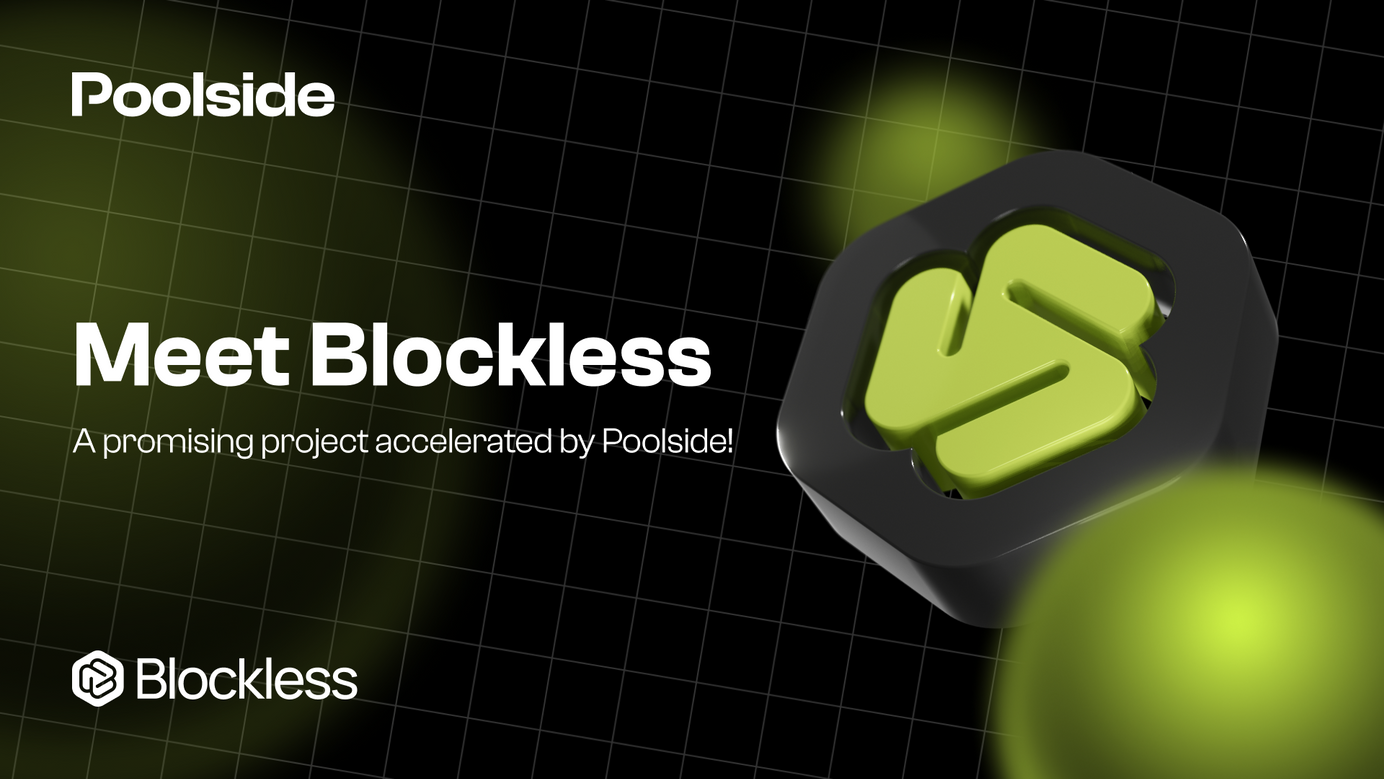 Meet Blockless, a promising project accelerated by Poolside
Revolutionizing decentralized application development with a customizable execution layer
We are thrilled to introduce you to Blockless, one of four groundbreaking Web3 startups joining the Poolside Accelerator program. Blockless offers zk verifiable serverless functions for building fast and limitless decentralized serverless applications. Led by founder Butian Li, who has years of experience in the blockchain industry and has successfully led Web3 projects listed on Binance, Blockless is poised to revolutionize decentralized application development.
Let's get to know them a bit better.
The Vision Behind Blockless
As a permissionless network, Blockless aims to provide serverless functions, making it significantly easier for developers to build advanced decentralized applications across Web3 and Web2. The ultimate vision is to create an abstraction layer that empowers interoperability between the on-chain and off-chain worlds, regardless of the type of decentralized application being built.
Leveraging Zero-Knowledge Proofs for Computation Integrity
Blockless utilizes ZK-powered computation integrity to ensure the correctness of off-chain computation in trustless environments. By leveraging zero-knowledge proofs, Blockless guarantees that the results of any computation are accurate and trustworthy, opening up new possibilities for offloading heavy computation to the off-chain world and crowdsourcing compute resources to build a global edge computing network.
Why Blockless Chose WebAssembly Over Docker
Getting deeper into the technical makeup of the technology, the team at Blockless chose WebAssembly (WASM) over Docker because the former is much more secure and a lot easier for developers to use with almost no effort to maintain. e. WebAssembly is also extremely portable, fast, and device-agnostic, making it an ideal choice for Blockless. It allows the platform to tap into idle personal computing devices such as smartphones, laptops, GPUs, and CPUs for seamless and secure execution.
Orchestration and Dynamic Consensus
Blockless deployed a Cosmos IBC chain automating task orchestration,  differentiating itself from traditional distrubuted networks. The orchestration chain automatically optimizes the match-making of tasks to the most suitable node resources based on parameters provided by developers and the tasks' hardware resource consumption provision. Apart from the zk module, developers can also choose to use dynamic consensus, ensuring the flexibility to create advanced decentralized applications with the most optimal tech stack.
A Unique Offering in the Decentralized Application Space
While other projects may offer similar solutions in decentralized or off-chain verifiable compute spaces, Blockless combines WebAssembly runtime and ZK-WASM to provide a customizable execution layer that is trust-minimized. The platform's plug-and-play dynamic consensus and ZK module give developers a wealth of options to create the perfect solution for their decentralized application needs.
Despite facing challenges related to time constraints and skepticism from the market, Blockless has successfully launched a full suite of products, including the Blockless CLI, dashboard, and several widely-used serverless functions in the Web3 space.
Enhancing the Developer Experience
Blockless prioritizes the developer experience, offering an easy-to-use CLI and dashboard. Developers can quickly integrate their code, connect to GitHub repos, and one-click hands-off deployment. With Blockless, developers can access powerful tools and resources to help them build the next generation of decentralized applications.
An Impressive Team Behind the Scenes
While working at Akash, Blockless CTO Derek, identified the need for verifiable computing service in the Web3 space, particularly to complement  Docker-based technology. His vision was to leverage WebAssembly to address this issue, forming the backbone of Blockless.
Derek holds several patents in secure sandboxing and encrypted messaging, directly related to Blockless's core mission of providing trustless verifiable compute services. Michael, the company's Chief Strategy Officer, has extensive experience in due diligence for token projects, having previously worked at Binance. His expertise in decentralized computation providers and Derek's technological solutions have laid a strong foundation for Blockless.
With Web3 being a relatively new space, the team behind projects is often as important as the project itself. People who invest in a project or become part of a project's community look for as much accreditation and validation as they can possibly get. A strong, experienced team is the backbone of any project with a solid present and promising future.
Strategies for Developer Onboarding
To attract developers, Blockless focuses on two main groups: Web3 developers and Web2 developers looking to transition into the Web3 space. By offering multi-language support through WebAssembly, Blockless removes the programming language barrier for Web2 developers to exploit their skillsets by coding in the language of their preferences such as Python, JavaScript, and Rust, making the transition smoother.
Blockless has also partnered with several Layer 1 ecosystems, including Celestia, BNB chain, Protocol Labs and Celo. These partnerships help provide better developer experiences, enabling builders to move into the respective ecosystems easily.
In addition to these partnerships, Blockless is hosting a hackathon with BNB Chain called Zero to Hero. This event has attracted talented developers with innovative ideas, which Blockless hopes will help bring more users into the Web3 space.
Keys to Success in the Fast-Paced Web3 World
Blockless emphasizes the importance of validating ideas without investing too much into them. By building proof-of-concept prototypes and seeking customer feedback, the team can ensure there is a genuine market need before proceeding with development.
Keeping up-to-date with the ever-evolving Web3 space is crucial. The Blockless team relies heavily on Twitter and in-person connections to stay informed and engaged with the latest developments and trends.
Why Poolside Accelerator?
Blockless chose Poolside Accelerator because of its extensive resources, support, and network in the European market. Being part of the Accelerator provides invaluable guidance and assistance, crucial for the growth and scaling of an early-stage project like Blockless.
We, at Poolside Accelerator are excited to work alongside Blockless as they continue to revolutionize the Web3 space with their customizable execution layer. Stay tuned for more updates on their progress and success in the coming months!
About Poolside
Poolside is an ecosystem designed exclusively for Web3 builders. With its suite of services and expert resources, Poolside helps Web3 projects make a splash in the rapidly evolving world of Web3. In addition to being a physical hub at the heart of the Web3 district in Lisbon, Poolside also hosts a remote accelerator program that takes selected projects from ideation to market launch, while providing initial funding of up to $100,000. The Poolside ecosystem is rapidly expanding with key partners and a growing community of Web3 builders, mentors, and investors.
Poolside Newsletter
Join the newsletter to receive the latest updates in your inbox.
---