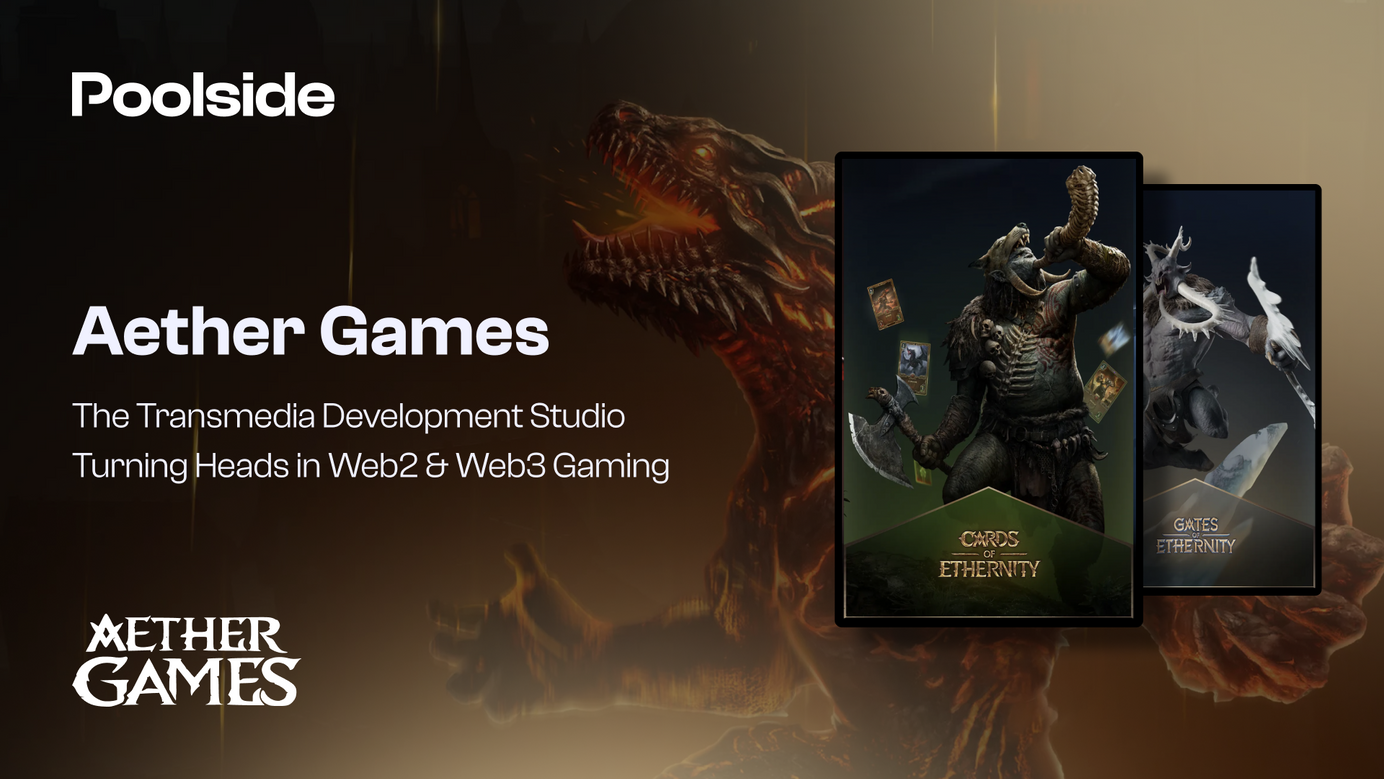 Aether Games: The Transmedia Development Studio Turning Heads in Web2 & Web3 Gaming
When it comes to Web3 gaming, Aether Games are not playing around
Today we're profiling Aether Games, a cutting-edge transmedia development studio that's making a big splash in the Web3 gaming industry.
Who are Aether Games?
Aether Games is a transmedia studio focused on developing immersive gaming and entertainment experiences for both Web2 and Web3 audiences. Aether Games has raised $4.5 million from esteemed investors, including Polygon Ventures, GSR, Polkastarter, Ultra, Icetea Labs, Magic Eden, Mystenlabs, and others.
The studio's portfolio includes two exciting titles: Cards of Ethernity and Gates of Ethernity. The former is a free-to-play collectible card game (CCG) with NFT and PT II mechanics, while the latter is a 3D auto-battler boasting variable and highly addictive strategic gameplay.
The Aether Games Vision
What sets Aether Games apart is their commitment to creating a franchise, wherein everything they build exists within that franchise's ecosystem. This includes the characters in the games, CGI animation, and augmented reality components.
"We're building a franchise. Absolutely everything that we build is within that franchise. So the creatures that you have in Cards of Ethernity, you also have them in Gates of Ethernity, you also have an AR viewer, where you can see those standing in real life. And with the AR glasses coming out, it helps, because we can have a lot of immersive games around them," explains Jens Peeters, founder of Aether Games.
The Aether Team
Aether Games boasts an impressive team of 30 people in-house, who work on AR, game development, and their upcoming series. Using their vast industry connections, the team has managed to build first class games in just around 15 months of development. The team is confident in their ability to continue growing and scaling the company through various bear market cycles.
The Founding Story of Aether Games
Recognizing the severe inequality and lack of quality in the early crypto games, Jens sought to create a company that could set a new standard within the space. "Having some experience myself, I felt like we can literally set a new standard within the crypto space," says Jens. "We don't need to do a crazy raise to build a beautiful product, we can do a small raise, use the money wisely, and then basically work on the augmented reality, work on the series, and work on the two games that we have in development as well."
What's Unique About Aether Games?
All of Aether Games' assets are built from scratch. They believe that full ownership of all their IP is crucial as they intend to collaborate with different brands and also build a gaming platform that will set them up for a brighter future. "Having the IP and full ownership of everything is very important to us," notes Jens.
Harnessing the Power of NFTs and IP Sharing
The value proposition of Aether Games lies in its unique approach towards community building and Intellectual Property (IP) sharing. As the gaming industry increasingly embraces the crypto space, Aether Games is creating a platform where the company and its partners can tap into the thriving communities they're building. This means that a single NFT bought a few years ago might become increasingly valuable as it becomes usable in various games.
The focus, however, remains on true ownership of assets. By integrating NFTs, Aether Games provides players with the opportunity to truly own and control their gaming assets, thereby ensuring that value isn't lost even if a player's account is banned or discontinued.
A Unique Revenue Model
Aether Games has devised a unique revenue model that merges the best of the gaming and blockchain industries. With nine different income streams, they have crafted an intricate economic system where each component supports the others.
Revenue comes from several sources:
Direct NFT and player asset sales
A token conversion system that generates revenue from the creation and disenchantment of NFTs
Royalties from all NFTs being sold on the platform
Revenue from the token's appreciation
Profits from selling in-game assets such as skins, emotes, and others
Revenue shares from IP partners and developers who use their APIs
Collaborative Growth and Partnerships
Aether Games is also focused on fostering collaborations within the gaming and blockchain industries. The team believes that by growing together and jointly building the ecosystem, they can facilitate the best possible initiatives and partnerships.
Their collaboration-first approach not only enhances the products and services offered by their partners but also strengthens the broader gaming community. Aether Games views their platform as a perfect vehicle for partnerships and product placement, thereby offering opportunities for others within the gaming space to thrive.
Building from Scratch
What sets Aether Games apart is their commitment to developing everything from scratch. Instead of using existing assets or third-party resources, the team is focused on creating original content and assets. This decision has been instrumental in assuring the uniqueness and quality of their offerings.
This approach extends to all facets of their development process, from the creation of in-game assets to character animation. The result is a gaming experience that's distinctly unique to Aether Games, which in turn enhances the value proposition for players.
Support from Investors
Aether Games has received backing from renowned names in the industry, as aforementioned. This support has played a vital role in helping the company achieve its goals.
These partnerships are about more than just funding. The investors in Aether Games are committed to supporting the company's vision and growth, thereby offering them the opportunity to enhance their network and strengthen their standing in the gaming and blockchain industries.

Harnessing the Power of Community
Aether Games is setting new standards not only for the gaming industry but for web entrepreneurs as well. The company understands the importance of community, a realization which forms the core of their business model. The team at Aether is keenly aware that their success is owed to the trust, admiration, and support of their users and investors. In return, they work hard to create an amazing experience and value for them. This belief sets a powerful example for Web3 entrepreneurs.
The Future is Bright
As they continue to garner praise and recognition in the industry, Aether Games' future looks incredibly promising. Despite being in a fast-paced and rapidly evolving sector, they've managed to secure impressive achievements including successful fund-raising, product development, and user adoption.
The team at Aether Games believes in a future where gaming and blockchain technology merge seamlessly, providing an unparalleled experience to users. As they continue their journey, they promise to stay committed to their community, to remain adaptable, and to keep pushing the boundaries of the Web3 gaming space.
In conclusion, Aether Games is not just a company, it's a community where every player matters. It's a testament to what can be achieved when technology, entrepreneurship, and community spirit align. In the exciting world of Web3 gaming, Aether Games is one to watch.
Moving forward, Aether Games is committed to continuous growth and innovation within the gaming space. While the journey so far has been both challenging and rewarding, the company is prepared to tackle whatever comes their way. By embracing the potential of blockchain technology and NFTs, focusing on unique and original content, and fostering a collaborative approach towards growth, Aether Games is not only creating unique gaming experiences but pushing the boundaries of the industry as a whole.
About Poolside
Poolside is an ecosystem designed exclusively for Web3 builders. With its suite of services and expert resources, Poolside helps Web3 projects make a splash in the rapidly evolving world of Web3. In addition to being a physical hub at the heart of the Web3 district in Lisbon, Poolside also hosts a remote accelerator program that takes selected projects from ideation to market launch, while providing initial funding of up to $100,000. The Poolside ecosystem is rapidly expanding with key partners and a growing community of Web3 builders, mentors, and investors.

Poolside Hub | Web3 Accelerator | Podcast
Poolside Newsletter
Join the newsletter to receive the latest updates in your inbox.
---