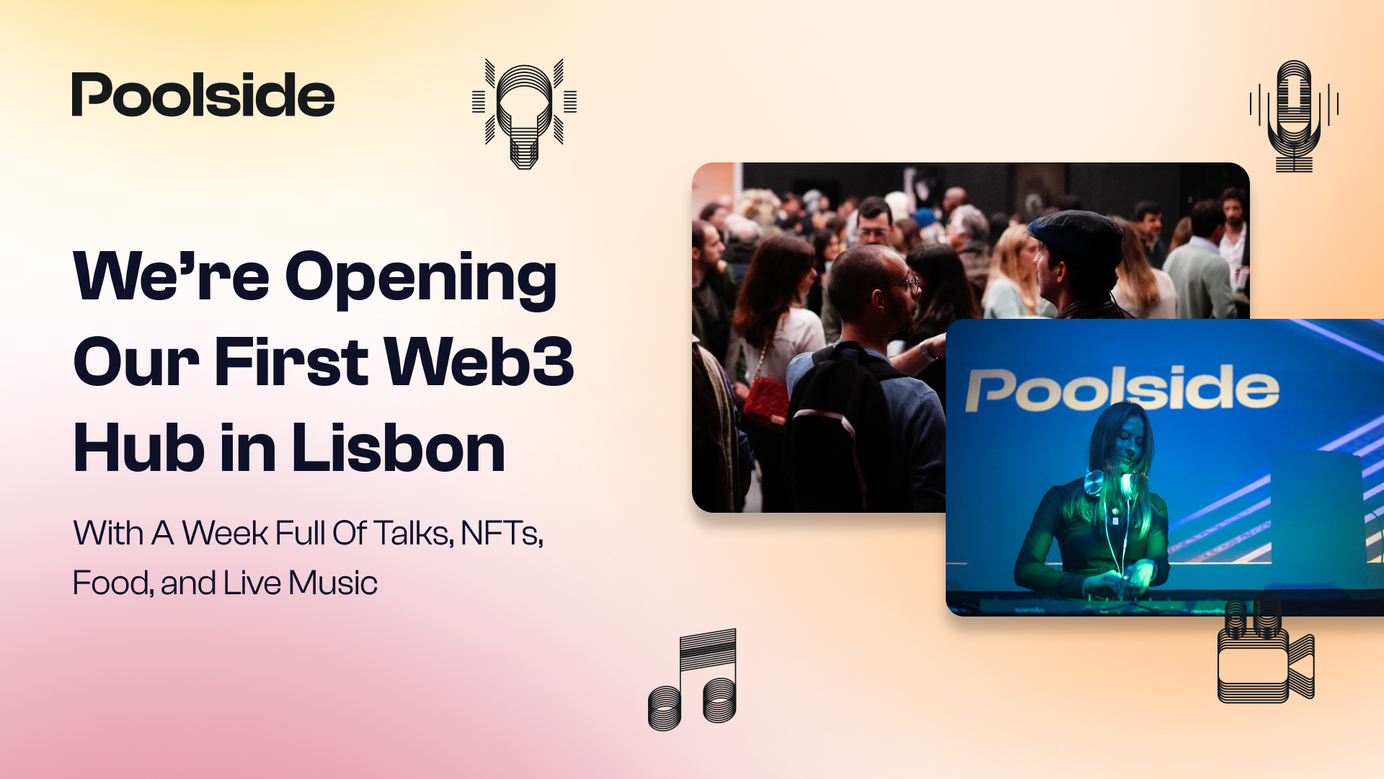 We're Opening Our First Web3 Hub in Lisbon, With A Week Full Of Talks, NFTs, Food, and Live Music
We're excited to open our doors to the Poolside Hub and welcome you to the Opening Week in Lisbon.
The event will take place from April 10th to 14th, featuring events, talks & panels, digital art exhibitions, and workshops dedicated to the Web3 space.
Hold on to your hats, Web3 enthusiasts! The moment we've all been waiting for is finally here! The electrifying Poolside Hub is opening its doors with a spectacular, action-packed week in the heart of Lisbon. Prepare to be dazzled from April 10th-14th with sensational events, inspiring talks and panels, mesmerizing digital art exhibitions, and hands-on workshops that will catapult you into the Web3 universe!

Poolside: The Home of Web3 Visionaries
Founded in 2022, Poolside is the ultimate Web3 ecosystem designed for Web3 builders. Our mission? To unite the brightest talents and resources in the Web3 space, creating a vibrant environment for the next generation of pioneers! Through the Poolside Accelerator program and our physical Hub, we empower entrepreneurs with the tools and network they need to shake up the Web3 universe.

And what better way to kick off our mission than with the Web3 Splash opening week event!

Web3 Splash - An entire week to connect and celebrate at the Poolside Hub
Welcome to "Web3 Splash" – a week-long fiesta celebrating the inauguration of our first-ever Hub in the European Web3 capital, Lisbon! From April 10th to 14th, rub shoulders with international thought leaders and explore the hottest Web3 trends and businesses.
Explore the universe of Web3 and immerse yourself in the latest trends and innovative businesses. Engage in fascinating discussions and witness awe-inspiring exhibitions in cutting-edge fields such as Decentralized Science (DeSci), Decentralized Finance (DeFi), Regenerative Finance (ReFi), and NFT Art.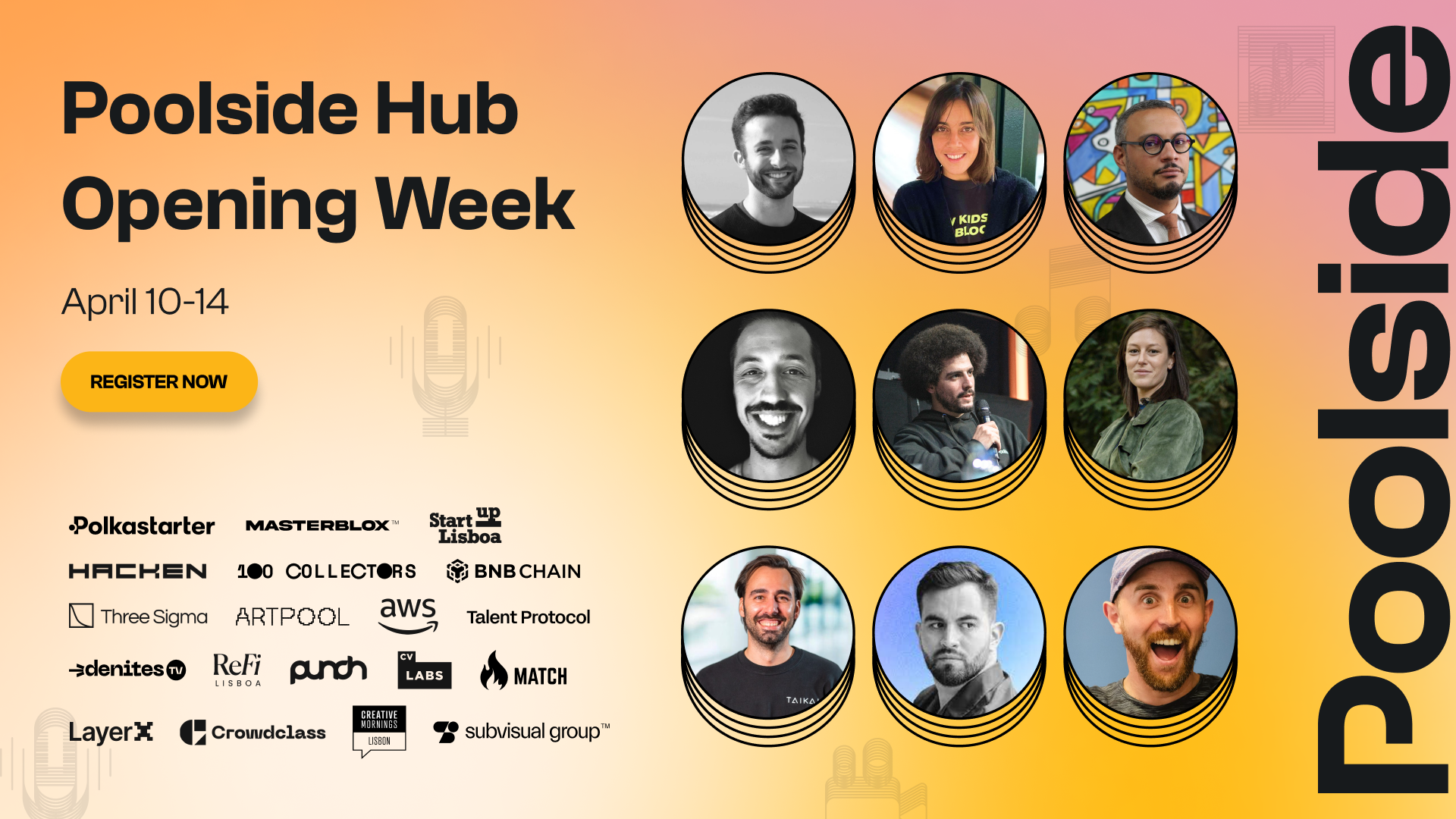 Mingle with visionaries from powerhouse companies like Hacken, Polkastarter, LayerX, CV Labs, Chainlink, Three Sigma, BNB Chain and even Amazon!
Join us for five days of networking and learning with the top minds in the Web3 community through talks, exhibitions, workshops, live music, and food - all in the heart of Lisbon.

According to Catarina Cabral, Poolside Hub Manager:
"We've been active in Web3 for many years now, and have helped over 100 projects launch with our team of mentors and advisors and did all of this digitally. For us, opening a physical space is investing in bringing Web3 builders together to accelerate innovation. Therefore it's with great honor and pride that we finally open, after a year of planning and construction, our first Hub in Lisbon. We envision Poolside becoming the home for entrepreneurs and artists to share ideas and celebrate the future of the Internet."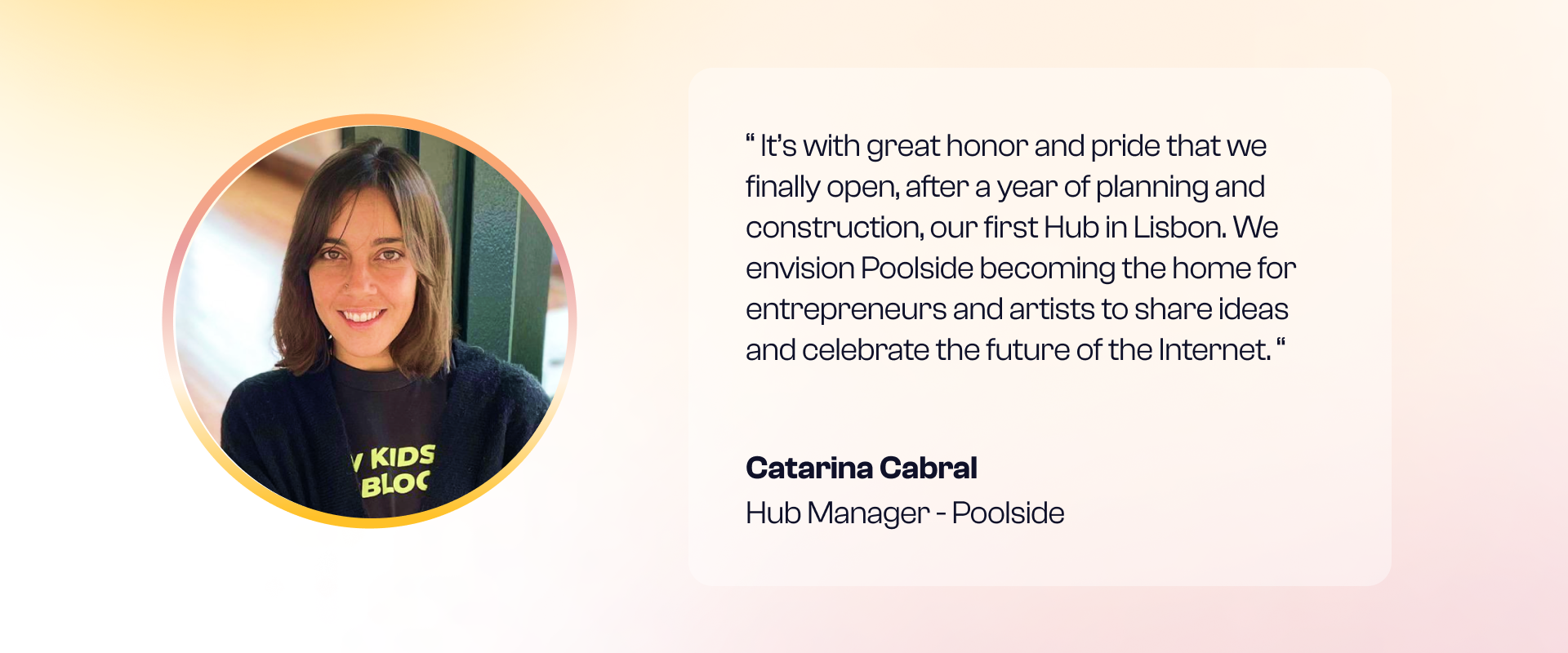 More info about the program: poolside.co/hub-launch
Poolside Hub, the physical home of Web3
Situated in the beating heart of Lisbon, a city renowned for its thriving tech startup scene, our hub boasts over 12,000 square feet of creative space. With five coworking rooms, a versatile event space, two sun-drenched terraces, and the acclaimed Cobaia restaurant, our hub is the ideal spot for Web3 innovators to collaborate, connect and create. And that's not all - our NFT Gallery will play host to a variety of cutting-edge digital art exhibitions throughout the year. Plus, with its strategic location just six minutes from Lisbon airport, Poolside Hub is easily accessible from anywhere in the world.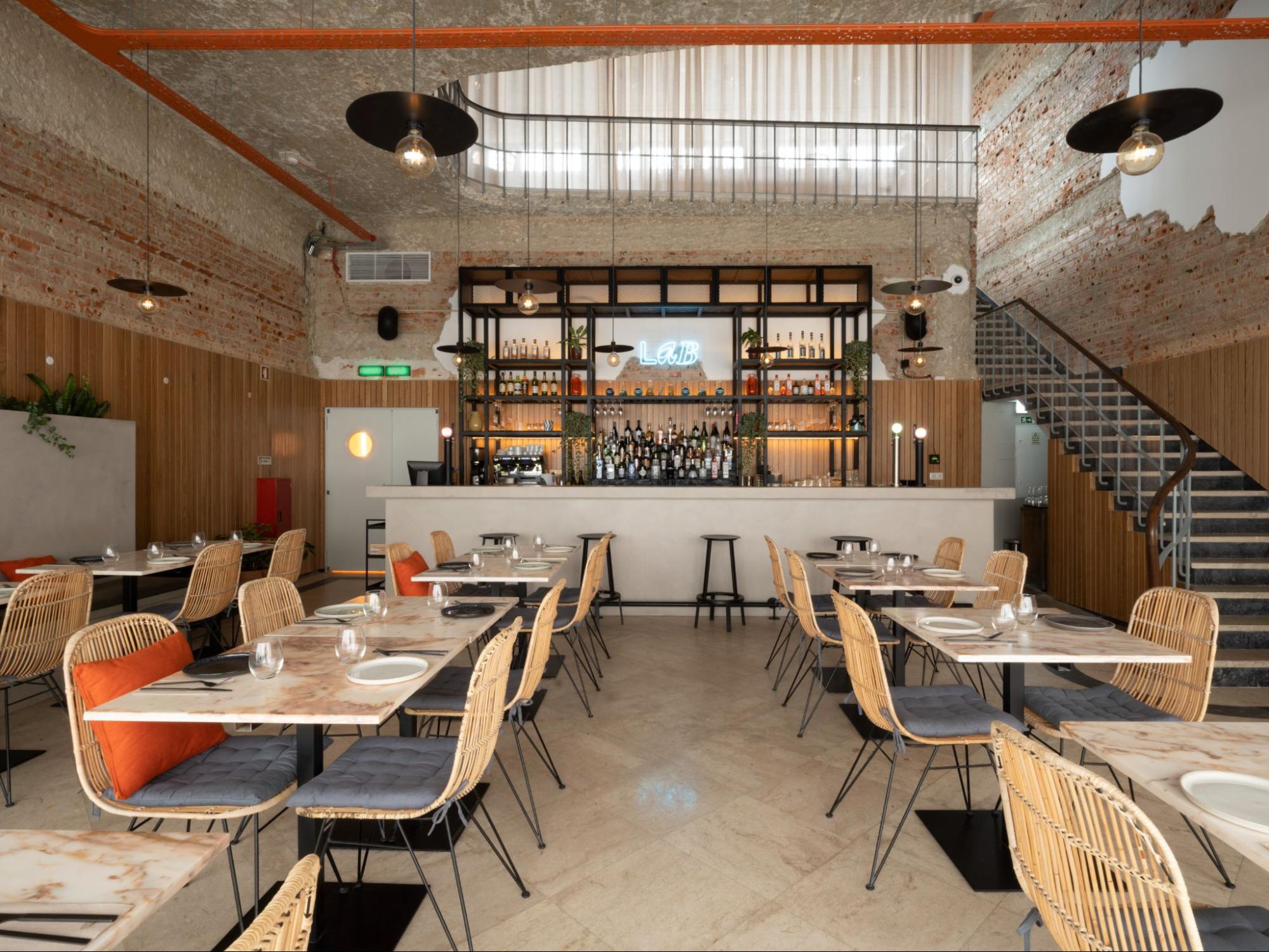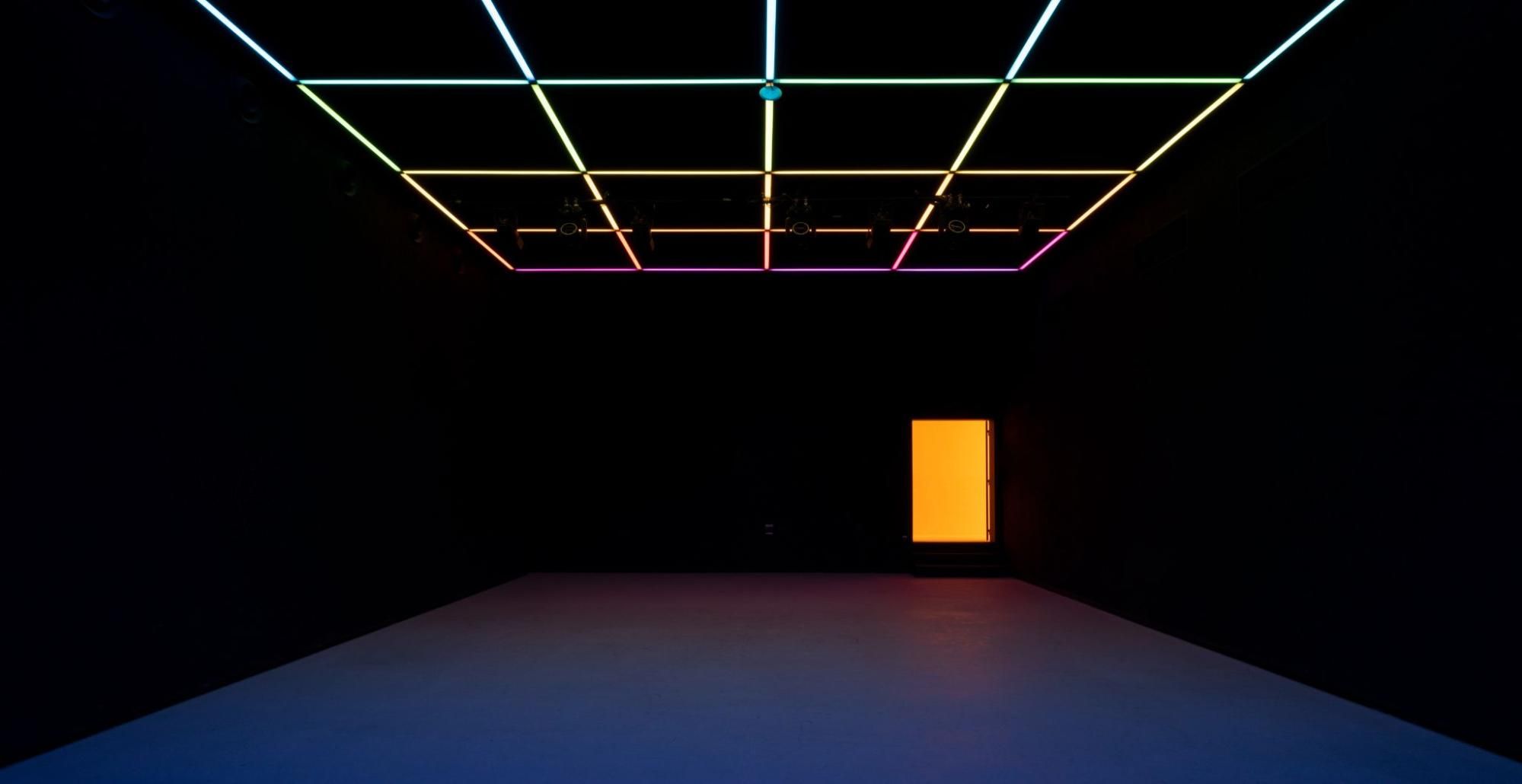 Catarina Cabral explains, "We want the Hub to be a meeting place for entrepreneurs and investors to come together and explore new opportunities in the space. Our mission is to host a wide range of initiatives during the year, including conferences, meetups, hackathons, demo days, and much more in an inspiring environment to accelerate opportunities in Web3."

Partners and benefits for their community
In addition to the Poolside team, the Poolside Hub is already home to several companies, including Polkastarter, Masterblox, Match, Artpool, 100 collectors, Crowdclass, Givin, Talent Protocol, ImpactScope, and Unicorn Factory Lisboa, a project by Startup Lisboa.

Some partners will grant extra perks to their community and token holders, like Polkastarter will share soon on their socials. Owners of the $POLS token will receive benefits at the Hub based on their holding tier. Poolside will collaborate with Tokenproof, a leading tool, to unlock token-based experiences for holders. Join our Telegram channel for updates.
Be a part of the Web3 community at Poolside Hub today! Register now to secure your spot for the Web3 Splash event and make history with us.


---
About Poolside
Poolside is an ecosystem designed exclusively for Web3 builders. With its suite of services and expert resources, Poolside helps Web3 projects make a splash in the rapidly evolving world of Web3. In addition to being a physical hub at the heart of the Web3 district in Lisbon, Poolside also hosts a remote accelerator program that takes selected projects from ideation to market launch, while providing initial funding of up to $100,000. The Poolside ecosystem is rapidly expanding with key partners and a growing community of Web3 builders, mentors, and investors.
Poolside Newsletter
Join the newsletter to receive the latest updates in your inbox.
---