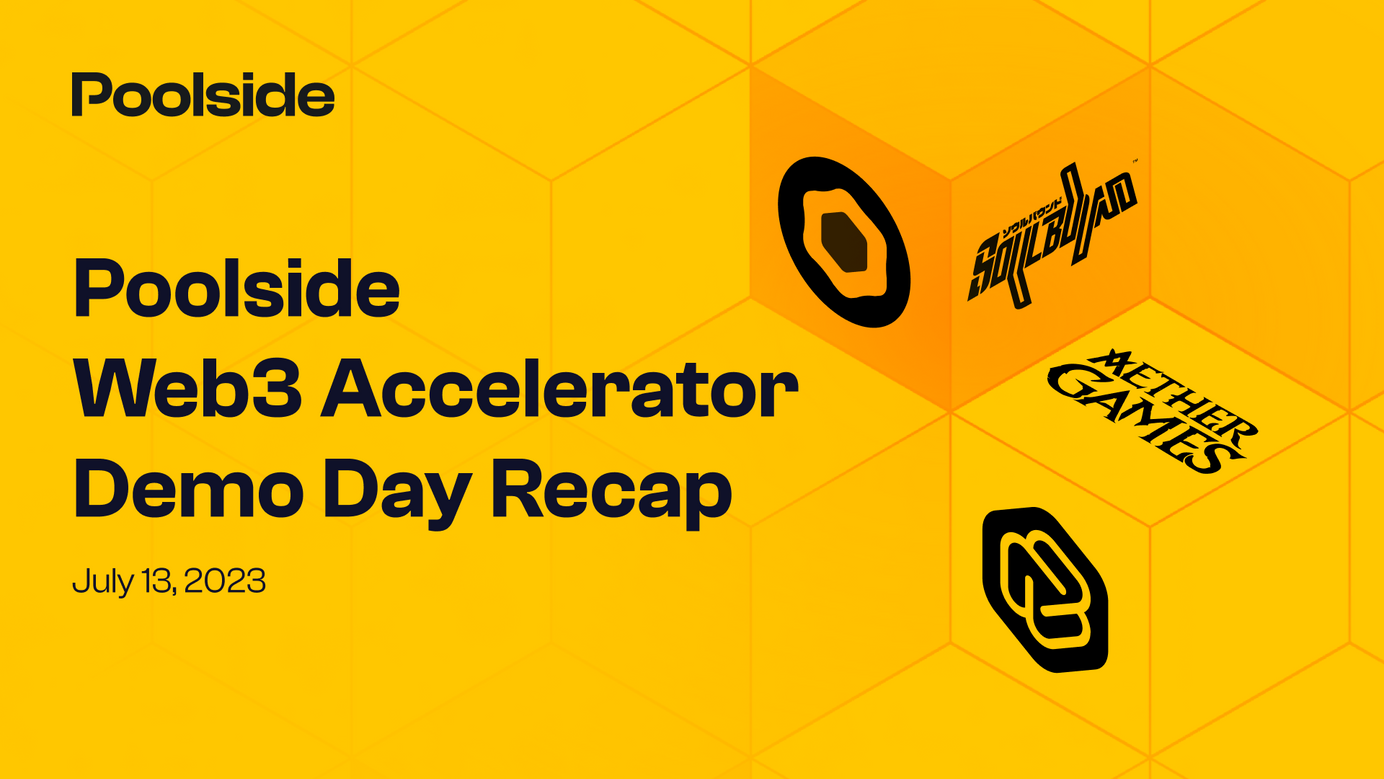 Poolside Web3 Accelerator Demo Day Recap
On July 13, we hosted our first Poolside Web3 Accelerator Demo Day with Portals, Blockless, Soulbound and Aether Games. And what an event it was!
In case you missed it, don't worry! We've put together a complete recap so you can still dive deep into the 4 incredible projects that were showcased.

First of all, we want to give a big shout out to the 4 projects for blowing us away with their innovative products and fantastic demos. They've put in some seriously hard work and it definitely shows! And of course, we can't forget to thank everyone who joined us - investors, partners, developers, users, and more. You all made it an unforgettable event!

With over 200 registrations, of which over 70 were VC's and investors, we continue to focus on bringing value through Poolside, to our projects and community as a whole.
Now, let's take a sneak peek at each project and why we're right behind them with all our support:
Portals
2021 proved to be an explosive time for DeFi, and with that came huge confusion for early DeFi users. Things got messy and confusing since the user experience was poor. Portals has built a remarkable platform that will enable mass adoption into DeFi through incredible technology and beautifully seamless UX. It helps when you pioneered zap technology and you're the best in the game.

Portals is currently fundraising, so investors do get in touch. Any protocols looking to integrate the API and any users wanting to revolutionize their DeFi experience, head over to their platform.

👉 Learn more about Portals

Blockless
Struck by the sheer quality of their team, founders of Wabi, ex Binance, Paypal, Akash and more, previously listing 2 tokens on Binance and Coinbase, they are building quite an extraordinary middleware platform to significantly support developer teams in scaling their infrastructure and product. You only have to look at the case study in their demo, one of many, to understand the sheer effectiveness of Blockless on a development team.
The Blockless user base and developer community is growing exponentially, so if you're a builder and existing team, head over and try it out.  And if you're an investor they're in the middle of another fundraise.

👉 Learn more about Blockless

Soulbound
If you think Web3 gaming has already taken off, we firmly believe it has barely got started. Soulbound is building an infrastructure platform to support games and gamers through the explosive growth phase the industry is about to experience. The founding team has over 70 years gaming experience, has exited and IPO'd previous companies and between them have raised tens of millions of dollars.
Having just kicked off another round of funding they're having no trouble getting interest so head over if you want to learn more. And, if you're a game looking to integrate their solution the team is waiting for you.

Aether Games
Founded by the world's top ranked World of Warcraft player for an entire year, they are bridging the gap between Web2 and Web3 gaming, building a market-leading transmedia studio. You'll struggle to find a team in Web3 Gaming, whose focus on quality is as prioritized as theirs. The brilliance of their detail and CGI creation is opening big conversations with top brands like Netflix, Amazon Prime and HBO.  Not only have they ranked in the top blockchain games but they're supporting huge titles with their cinematic production and series.
Also currently fundraising, so if you're an investor, do get in touch.  And any games or titles wanting to collaborate, as always, their DMs are open.

👉Learn more about Aether Games

The Poolside Web3 Accelerator's first cohort and demo day has been an incredible experience. However, it doesn't end here. We continue to support these 4 projects and their respective journeys towards making Web3 a better place for everyone.  

We're also delighted to remind all builders that applications for the S23 cohort are still open! If you're craving an opportunity to be part of something extraordinary or if you know of a project looking for investment and hands-on support, apply now at poolside.co.
And finally, if you're an investor and wish to receive deal-flow opportunities, please sign up here.


About Poolside
Poolside is an ecosystem designed exclusively for Web3 builders. With its suite of services and expert resources, Poolside helps Web3 projects make a splash in the rapidly evolving world of Web3. In addition to being a physical hub at the heart of the Web3 district in Lisbon, Poolside also hosts a remote accelerator program that takes selected projects from ideation to market launch, while providing initial funding of up to $100,000. The Poolside ecosystem is rapidly expanding with key partners and a growing community of Web3 builders, mentors, and investors.

Poolside Hub | Web3 Accelerator | Podcast
Poolside Newsletter
Join the newsletter to receive the latest updates in your inbox.
---