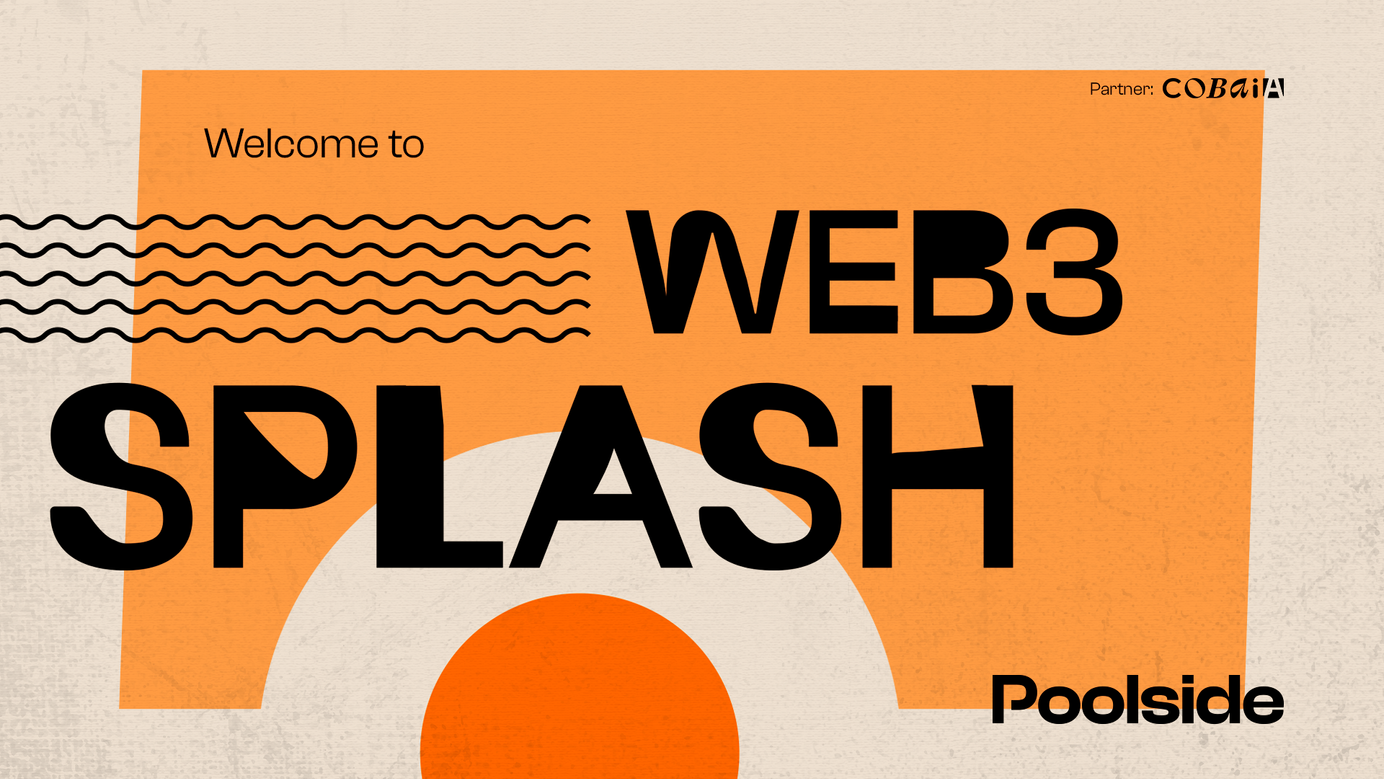 Welcome to Web3 Splash💦
Our new web3 meetup series is ready to roll in Lisbon!
Remember our Web3 Splash grand hub opening in April this year? This week of fun, web3, and building connections left us craving for more!
Today, we are happy to introduce you to our new Meetup series, which has its roots in this opening event: The Web3 Splash meetup! 🌊
What is the Web3 Splash meetup?
This emerging series is set up as an open, welcoming, inclusive, and fun discussion platform for all the new, funky, relevant, intriguing, and vibrant topics emerging in and around the web3 scene. All in the chilled, relaxed atmosphere of a frens get-together.
Every meeting will see a panel or presentation by industry professionals. We aim to introduce our audience to a variety of topics, as well as give YOU a chance to present in front of a broader audience.
Whether you want to actively discuss the topic, listen up from the comfy corner, or just wind down with your crew, we have a place to accommodate your needs.
We promise an open bar with good beer and drinks in an event-long happy hour and the cozy environment of Poolside Lisbon hub with an indoor restaurant and multiple outdoor terraces. With a beautiful 12,000 square feet big and bright venue in the heart of Lisbon's central Alvalade district, we are more than ready to share the space with you on a regular basis.
We are committed to the mission of bringing good vibes, with both food for thought and nutrients to refresh your body.
📆 Join us on Thursday evening, from 6:00 to 9:00 WET. For the nearest event - sign up here.
💦 Web3 Splash #1 - the recap
The inaugural Splash is already behind us! In September, at our first meetup, we were fortunate to welcome John McCoy, skillfully maneuvering the uncharted waters of web3 and Real Estate with ProprHome - a property marketplace developed on XRP Ledger, harnessing the power of blockchain, designed to enable a more trusted real estate experience.
See the interview with John, recorded during the Web3 Splash event:
Curious about the topic? Learn all about John's motivation to build up ProprHome, the business model they chose, and what they plan for the future - details on the ProprHome website.
"At ProprHome, we're not just about Real Estate; we're about reimagining Real Estate through the power of blockchain and Web3". - John McCoy, CEO ProprHome
💦 Web3 Splash #2 - coming soon!
The Web3 Splash is back on October 26, another Thursday evening, and we got Peter 'pet3rpan' from 1kx joining us Poolside to talk all things mainstream crypto/web3 adoption in a refreshing, interactive format.
This is not your regular presentation. Rather, this is a unique opportunity for anyone to scratch their own itch and get direct answers to their questions from a pro. For our 2nd meetup in the series, we are setting off for a Q&A!Submit your questions during registration, or ask them live at the spot! Missed the first one? Don't miss the next! 😉 Sign up here.
​​🗓️ Thursday, Oct 26, 2023
​​6:00 pm - 6:45 pm: Welcome & Networking
​​6:45 pm - 7:30 pm: Speaker Q&A Session
7:30 pm - 9:00 pm: Networking & Happy Hour
About the speaker
Peter 'pet3rpan' is a Partner at 1kx, a renowned crypto venture fund, with a primary focus on investing in consumer-oriented crypto projects. With an extensive and influential presence in the crypto space, Peter is a well-known figure in the web3 community. In fact, if you're already part of the web3 space, there's a good chance you're already following Peter on Twitter. For those who have yet to do so, it's a valuable resource well worth following to stay updated on valuable insights in the world of crypto and web3.
The next episodes of the Web3 Splash💦 saga are coming soon!

You can subscribe to our Newsletter at poolside.co/hub, and follow the updates on our Telegram channel.
About Poolside
Poolside is designed exclusively for web3 builders. With its suite of services and expert resources, Poolside helps web3 projects make a splash in the rapidly evolving world of web3. In addition to having a physical hub at the heart of the web3 district in Lisbon, Poolside also hosts a remote accelerator program that takes selected projects from ideation to market launch, while providing initial funding of up to $100,000. Poolside is rapidly expanding with key partners and a growing community of web3 builders, mentors, and investors.

Poolside Hub | Web3 Accelerator | Podcast
Poolside Newsletter
Join the newsletter to receive the latest updates in your inbox.
---