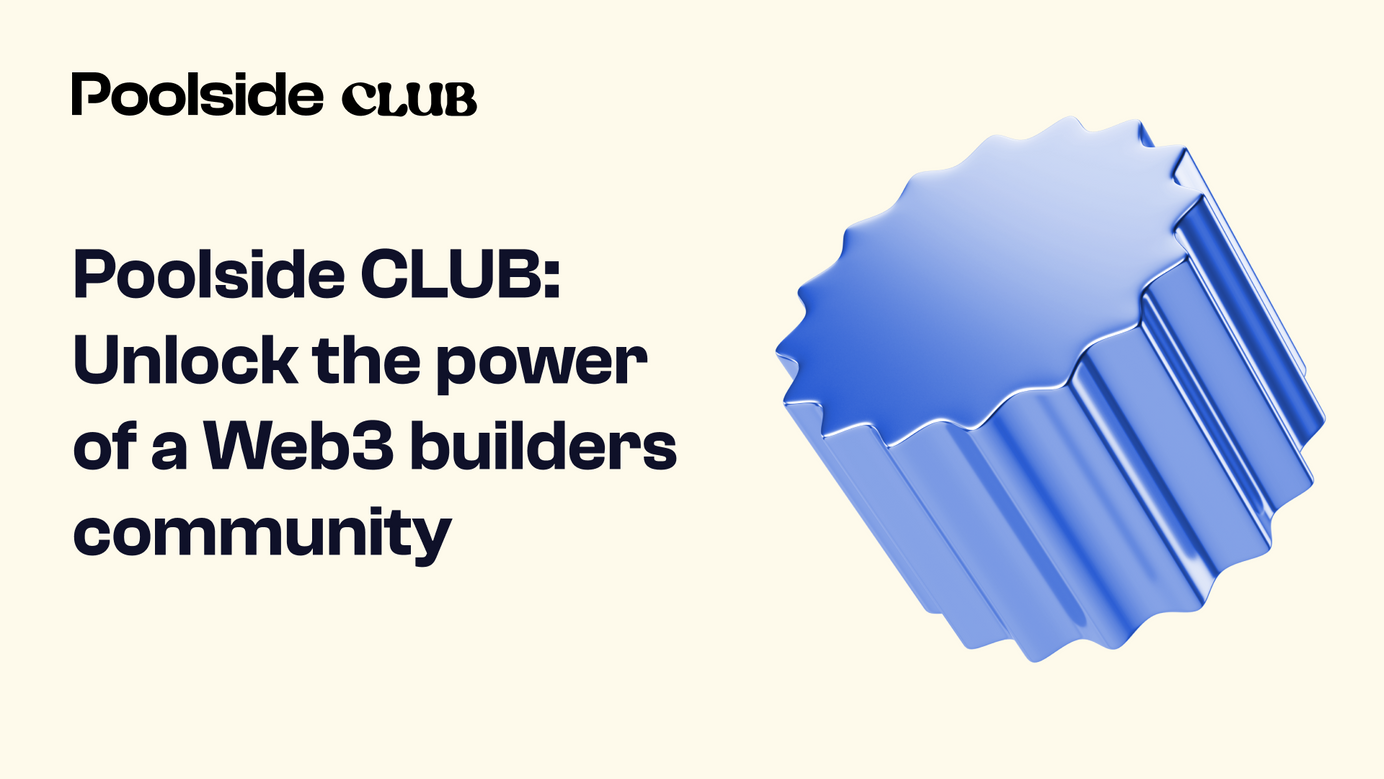 Poolside Club: Unlock the power of a Web3 builders community
From crafting your pitch to finding the right market fit, Poolside Club offers you the support you need on your Web3 startup journey.

Why Poolside Club?
Dive into the exhilarating world of Poolside Club and embark on a journey filled with the collective wisdom of hundreds of trailblazing founders in this rapidly evolving space. Immerse yourself in invaluable advice and unparalleled mentorship, connecting with visionary investors who share your long-term ambitions. As champions of the Web3 ecosystem, we've created an exclusive sanctuary for innovative builders like you. Take the plunge and be part of a community that will shape the future of Web3.
What is Poolside Club?
Poolside Club is an exclusive community where passionate Web3 pioneers come together to exchange knowledge, and expertise, and collaborate on transforming their ideas into industry-leading projects. Beyond a mere networking platform, Poolside Club serves as a digital sanctuary for Web3 founders to unwind, rejuvenate, and achieve a renewed sense of purpose.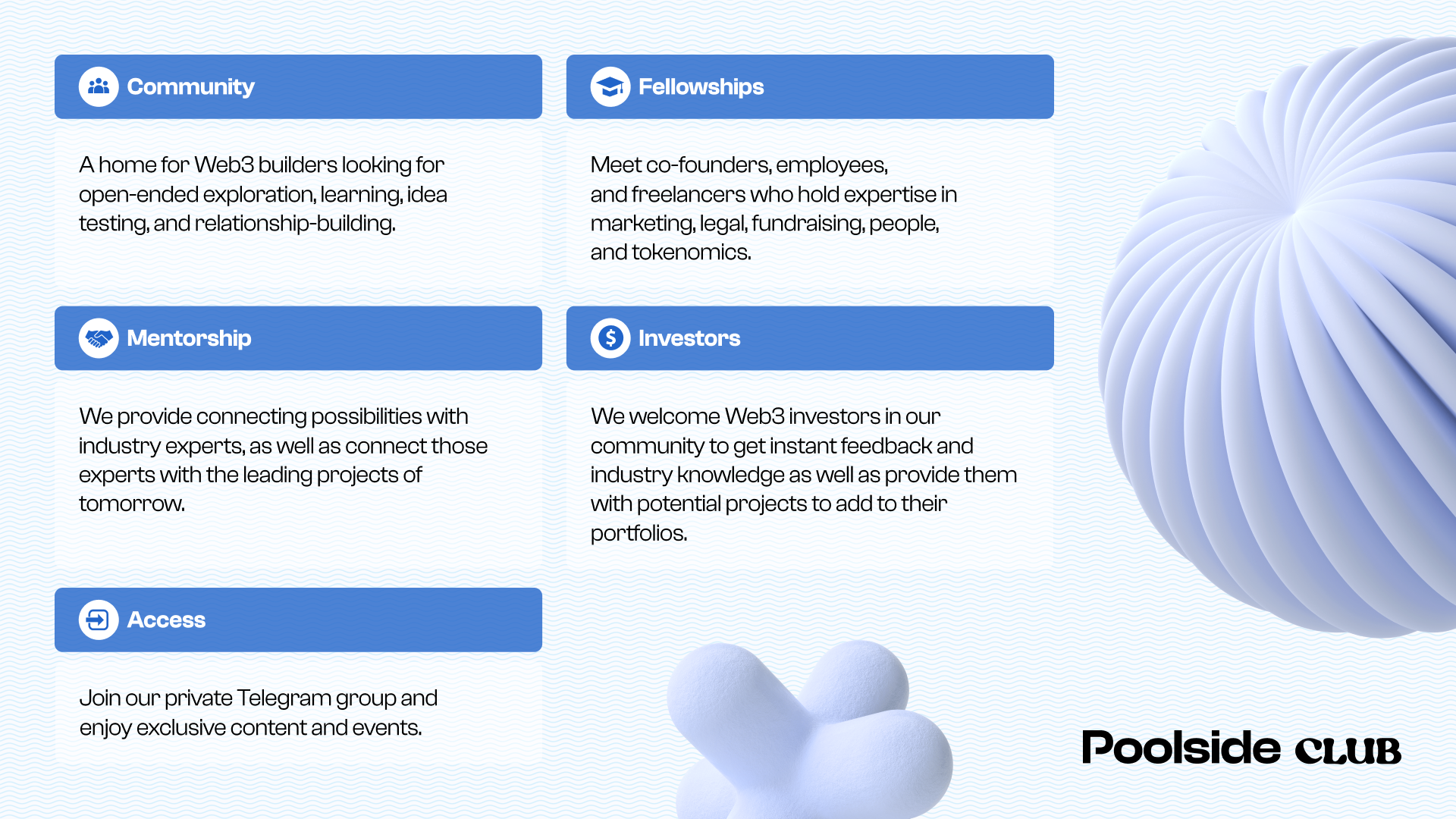 Community
We take pride in cultivating a highly curated community of Web3 trailblazers. To maintain an atmosphere of trust and innovation, our selection process is stringent, ensuring that only the most dedicated and active Web3 enthusiasts become part of our group.
A place where Builders, Investors, and Mentors get together
Web3 builders, investors, and mentors are all encouraged to become part of our community. During the registration process, you will be prompted to select one of these three roles that best represents your expertise and share your unique skill set. This information enables you and fellow Club members to discover potential collaboration opportunities through our Club Directory.
Join Us on Telegram
Daily interactions among Club members join here. Upon completing your sign-up and receiving profile approval from our team, you'll be sent an email containing an invitation link to our Telegram community.
Feel free to ask questions, share your achievements, and exchange ideas within the group. While some initiatives, such as pitching calls where members present their projects and receive constructive feedback, are coordinated by Poolside Club managers, others are proposed and initiated by members themselves. We always appreciate suggestions and proposals, fostering a collaborative and supportive environment.
Don't forget to check out our Quest page and earn XP points for your activities! Securing a higher position on the Leaderboard grants you priority access to Club offerings, such as event tickets and partner benefits.
To strengthen our community bonds, we plan to host gatherings for Club members, both in person and online. These events present an excellent opportunity for further networking and showcasing your projects to a wider, well-informed audience.
Part of the Poolside ecosystem
Poolside Club is an integral part of a larger ecosystem that also encompasses the Web3 Accelerator, providing a mentorship program with initial funding opportunities, and Poolside Hub – a physical space in Lisbon, Portugal. Poolside Hub is gearing up for its inaugural event, Web3 Splash, a week-long extravaganza featuring engaging talks, networking opportunities, delicious food, refreshing drinks, and live music!
Club members enjoy priority access to this fantastic event and coworking space, which will also host our Club in-person meetups! Members have the opportunity to attend co-working sessions, organize their own events, and meet the Accelerator program mentors who are part of the Club community.
The platform
Let's have a closer look at our platform. It is an exclusive space, available to those approved in selection to be among our Club members.
Quests
Quests are crafted to showcase engagement and recognize the contributions of our members. You'll encounter a variety of tasks, from connecting with us on Telegram to organizing a meetup with fellow Club members. While completing quests is optional, active participation is highly encouraged to reap the full benefits of Club perks and incentives.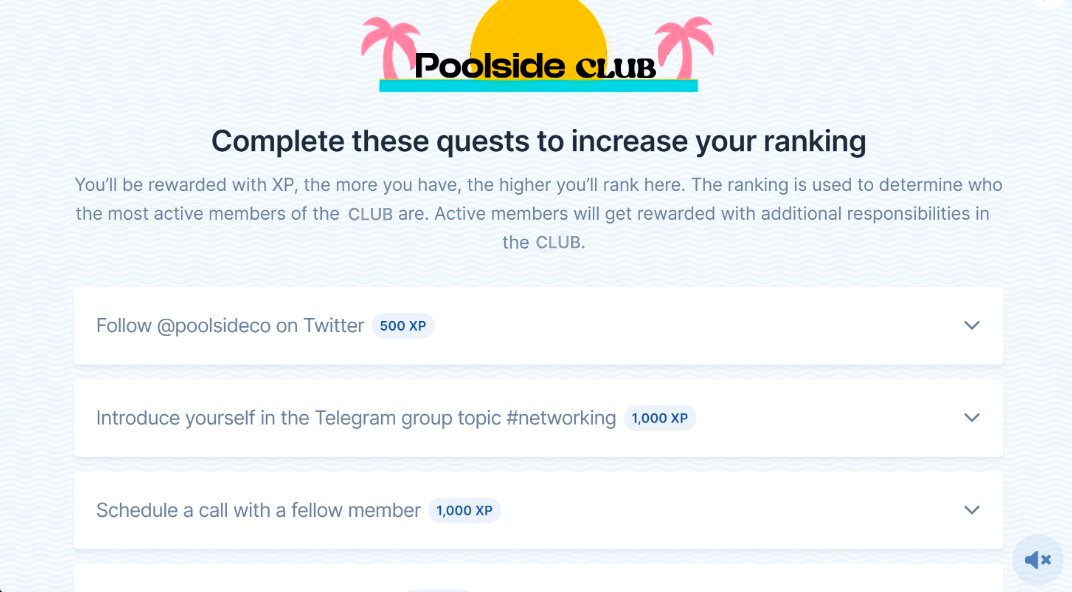 Leaderboard
The Leaderboard is where you can view the current ranking of XP achievers within our community.
Directory
In search of new collaborators? Utilize the Club Directory's filtering feature to discover fellow members possessing the skills you seek. Connect with them via Twitter, LinkedIn, or locate them within our Telegram community.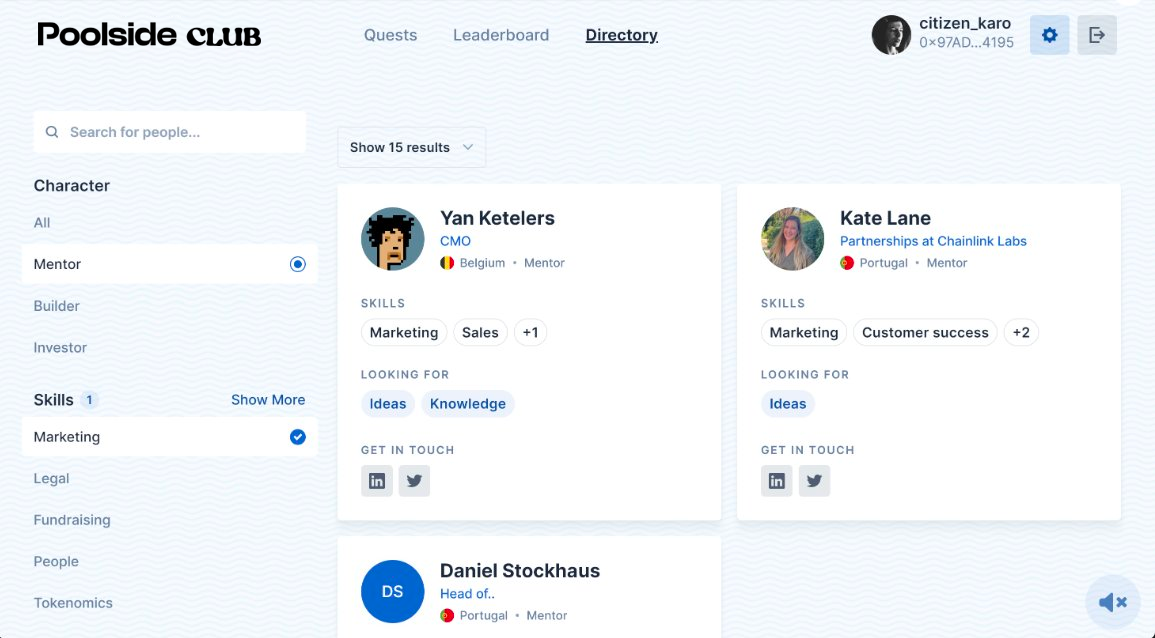 Become a member
As a member of Poolside Club, you gain access to invaluable resources, including a vibrant community, fellowships, mentorships, investor connections, and exclusive entry to events and opportunities. Joining the community empowers you to harness collective intelligence and elevate your Web3 startup.
Immerse yourself in virtual and in-person events, forge connections with fellow members, enjoy partner benefits, and brainstorm groundbreaking ideas.
Delve into daily conversations within the private Telegram group, fostering an environment of constant growth and learning.
Embark on Club Quests, accumulate XP points, and rise through the Leaderboard ranks, unlocking priority access to Club perks like complimentary event entries, merchandise, and more.
Discover the perfect collaborators using the Filtering Directory, where you can identify members based on their attributes, skills, and collaboration goals.
Aligning with the right individuals is vital for your Web3 startup's success, and Poolside Club is the key to unlocking those connections.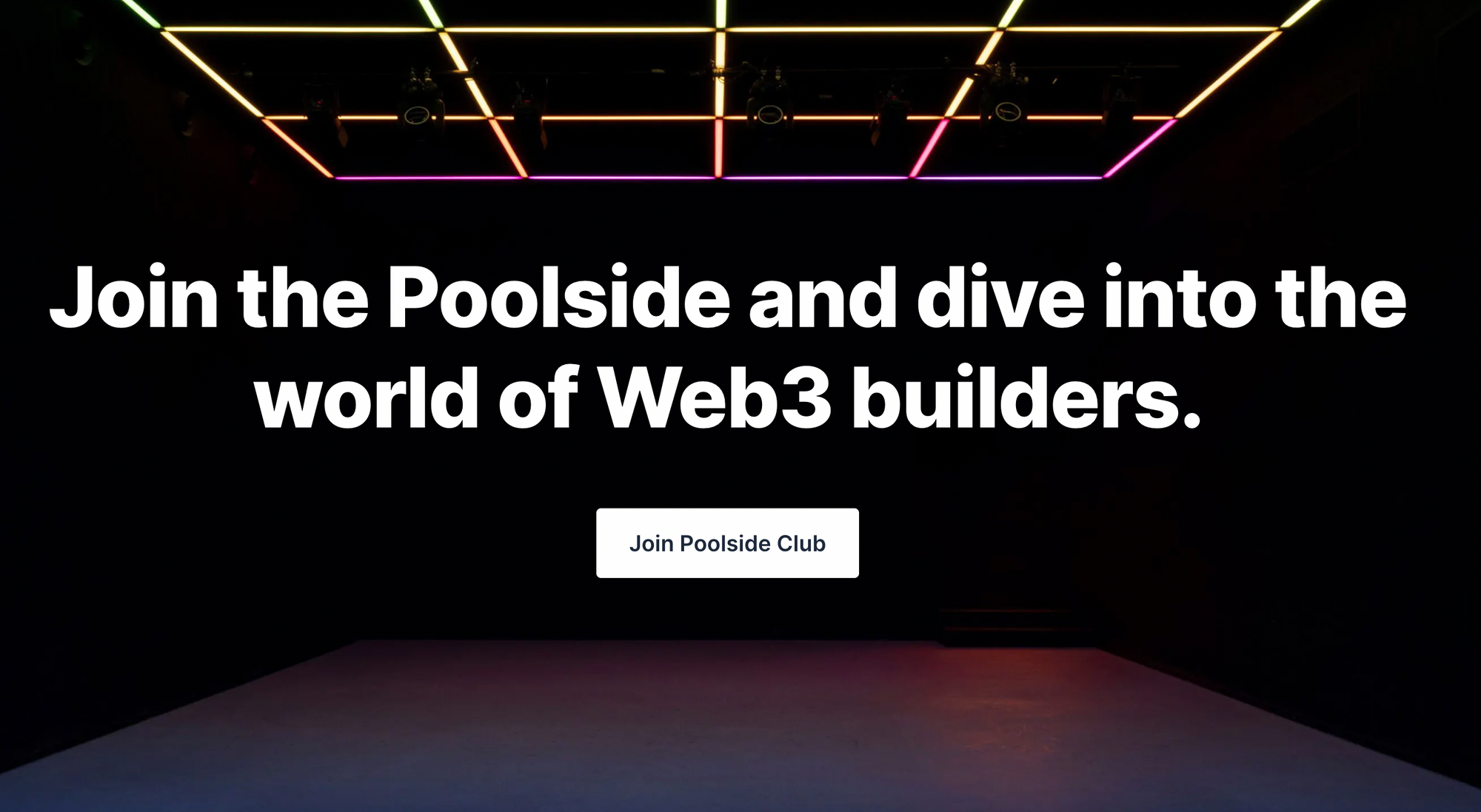 Are you prepared to catapult your Web3 startup to extraordinary heights? Join Poolside Club and embark on your pathway to triumph. Together, let's shape the future of Web3!
About Poolside
Poolside is an ecosystem designed exclusively for Web3 builders. With its suite of services and expert resources, Poolside helps Web3 projects make a splash in the rapidly evolving world of Web3. In addition to being a physical hub at the heart of the Web3 district in Lisbon, Poolside also hosts a remote accelerator program that takes selected projects from ideation to market launch, while providing initial funding of up to $100,000. The Poolside ecosystem is rapidly expanding with key partners and a growing community of Web3 builders, mentors, and investors.
Poolside Newsletter
Join the newsletter to receive the latest updates in your inbox.
---