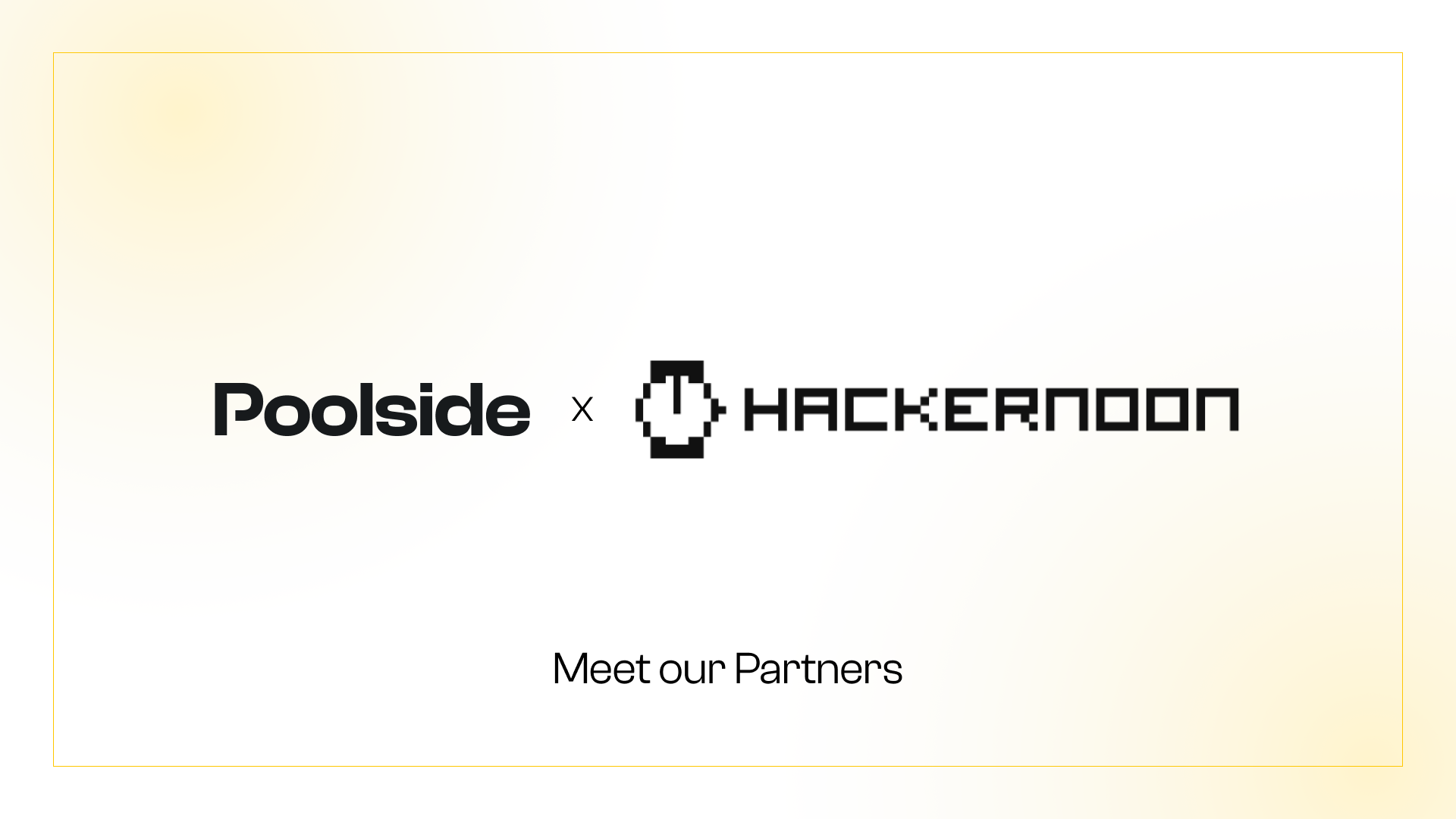 Meet our partners: HackerNoon
HackerNoon is built for technologists to read, write, and publish.
In a vibrant landscape where blockchain is revolutionizing the industry, nurturing and showcasing our most promising partners is crucial. With this vision and excitement, we unveil a collaborative venture that promises to be a game-changer for blockchain developers nurtured at the Poolside Accelerator.
Spotlight on HackerNoon
HackerNoon, a renowned platform in the tech space, has been a reliable guide in spotlighting noteworthy advancements in the blockchain gaming arena and Web3 as a whole. Known for fostering quality and authentic narratives, HackerNoon offers a grand stage where the future gaming moguls of the Poolside Accelerator can shine.
A Golden Opportunity for Poolside Innovators
With the noble endeavor to bring the brightest blockchain gaming projects to the limelight, HackerNoon extends an exclusive offer to the creators at the Poolside Accelerator. Poolside's blockchain game developers are being gifted with 12 free publishing credits (1 per project) on HackerNoon (a $4788 value), a golden ticket to narrate the riveting stories and insights of their ongoing game developments. ⭐
HackerNoon x Poolside

"At HackerNoon, we publish the ever-evolving landscape of technology. Through this partnership with Poolside, we are empowering developers, creators and makers to echo their achievements with a wider audience. I look forward to reading about how the next generation of Web3 founders will build our digital worlds."  

- Creator and CEO David Smooke.
👉 Check the full partnership offer here

Discover more about HackerNoon
HackerNoon is your ultimate technology publisher, offering 100,000+ articles on topics ranging from programming and startups to AI and cryptocurrency. Powered by its own content management system, the platform has captivated over 200 million tech enthusiasts, showcased 40,000+ ingenious writers, and supercharged 2,000+ innovative tech companies. Tailored for technologists, HackerNoon is a space to read, write, learn, and publish — all without paywalls, pop-ups, or fluff, just pure, quality technology stories.
Website | X | LinkedIn | Instagram | Podcast | Tech Jobs | TechBeat

About Poolside
Poolside is designed exclusively for Web3 builders. With its suite of services and expert resources, Poolside helps Web3 projects make a splash in the rapidly evolving world of Web3. In addition to having a physical hub at the heart of the Web3 district in Lisbon, Poolside also hosts a remote accelerator program that takes selected projects from ideation to market launch, while providing initial funding of up to $100,000. Poolside is rapidly expanding with key partners and a growing community of Web3 builders, mentors, and investors.
Poolside Hub | Web3 Accelerator | Podcast
Poolside Newsletter
Join the newsletter to receive the latest updates in your inbox.
---